St. Joseph Regional High School
40 Chestnut Ridge Road
Montvale, NJ 07645
Head Coach: Augie Hoffman
Mascot: Green Knights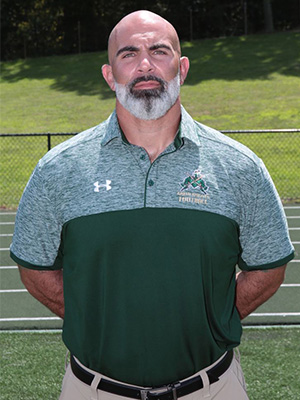 Saint Joseph Regional High School, operated under the auspices of the Archdiocese of Newark, is a college preparatory school for young men founded in the Xaverian tradition of Catholic education. The school is located in suburban Montvale in Bergen County, approximately 10 miles from New York City.
Saint Joseph Regional High School currently serves a population of over 500 young men in grades 9-12 and is accredited by the Middle States Association of Colleges and Schools.
The school administration and faculty support and encourage student participation in a variety of sports, social and academic activities. There are 13 sports, which include participation at the freshman, junior varsity and varsity level, as well as a wide variety of co-curricular activities.
Thus, Saint Joseph Regional High School is an academic community where students develop a sense of self-worth and accomplishment through recognition of each individual's abilities. The school provides its students with a foundation for long-term academic growth and success through a rigorous college preparatory program, study skills instruction, an emphasis on disciplined work habits and a commitment to life long learning.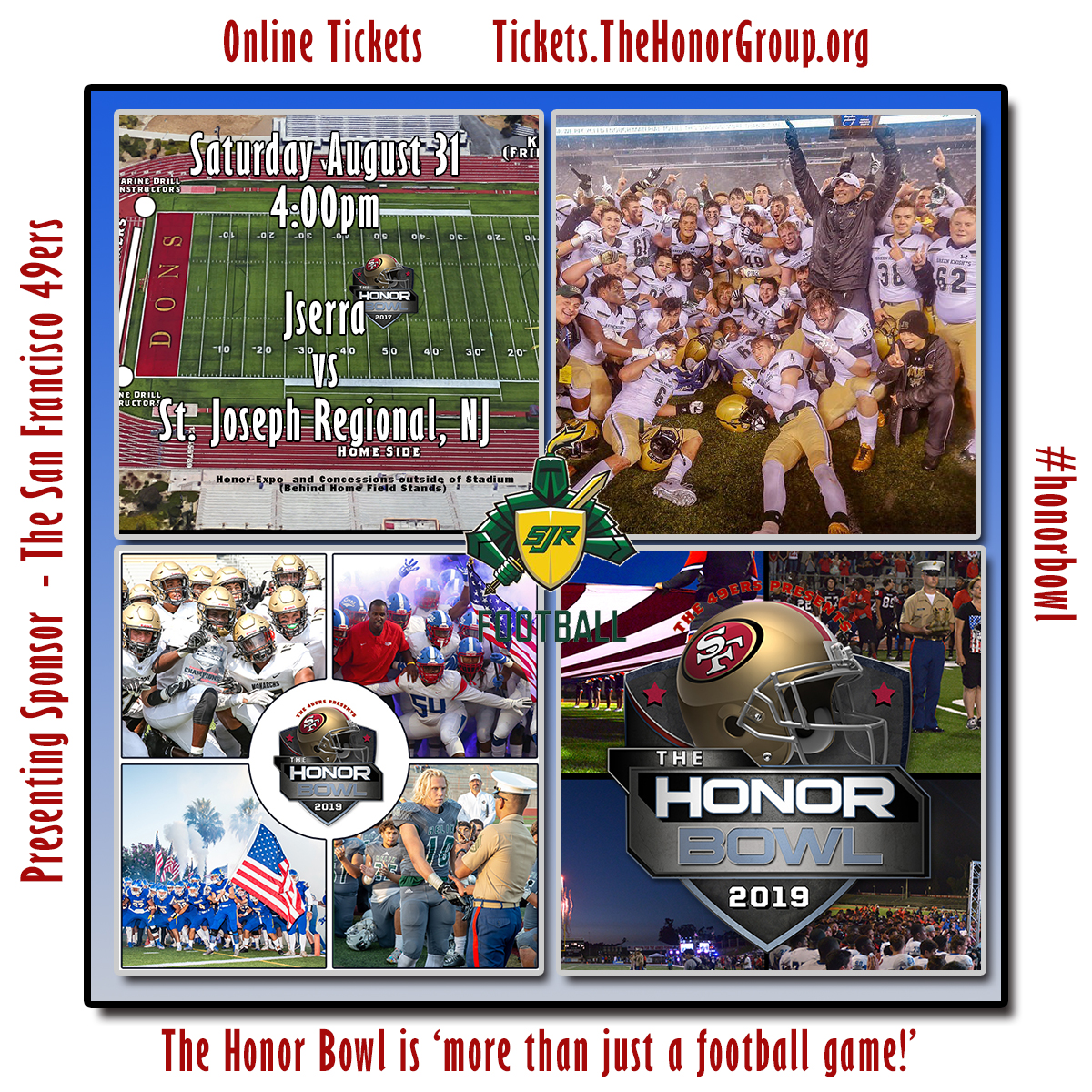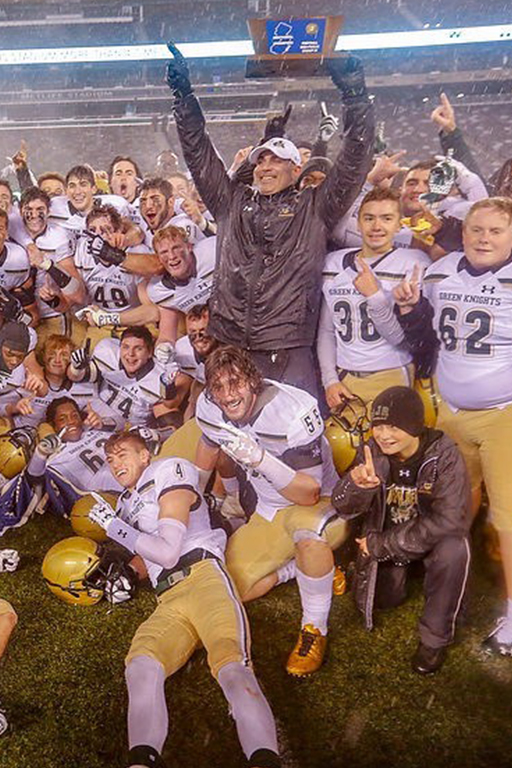 Second Trip to Honor Bowl
St Joseph Regional, 2018 New Jersey State Champion has been in The Honor Bowl once in 2016 when they matched up vs Serra Gardena. The trip to SoCal had a highlight, something The Green Knights will be doing again: The famed Camp Pendleton Experience. Head Coach Augie Hoffman speaks highly when his team came to Mission Viejo for their first Honor Bowl. All the hype lived up to what each player, coach and parent experienced at what many in America calls one of the best high school football showcases.
What sets The Honor Bowl apart from other Football Classics is the focus on education that deals with a first hand exposure to what a hero is. It is not a rock or movie star, it is not a professional athlete – it is those men and women who volunteer to serve our Country and defend our freedoms. Thank you SRJ for venturing back to the west coast to enliven each student with memories that will last a lifetime.
2019 Varsity St. Joseph Regional
Number
Full Name
Grade
Height
Weight
Position
1
Spence, Terrence
12
6-2
185
DB
2
Estime, Audric
11
6-1
215
RB
3
Alaimo, Michael
12
6-5
230
QB
4
Vanover, Amin
12
6-4
250
DE
5
Abraham, Christian
11
5-11
195
RB/S
6
Monte, Frankie
11
5-11
205
MLB
7
Epps, Andre
12
5-10
170
RB
8
Mack, Elijuwan
12
6-0
180
DB
9
Stewart, Shane
12
5-11
185
S
10
Caricato, Tyler
12
5-10
160
WR
11
Stern, Joseph
10
6-0
160
QB
12
Mucci, Justin
11
5-11
180
QB/WR
13
Tasko, Sebastian
11
6-2
175
K/P
14
Singh, Isaiah
11
6-0
170
WR/DB
15
Carter, Jalen E.
11
6-0
180
WR
16
Wypler, Blake
11
6-0
180
WR
17
Kurtz, Tanner
10
5-11
165
WR
18
Schuh, Peter
10
5-10
170
DB
19
Watkins, Trey
10
6-0
160
DB
20
Rivera, Logan
11
6-0
220
LB
21
Powell, Te'Rai
12
6-0
190
DB/RB
22
Phillips, Jack
11
6-0
190
LB
23
White, Samuel
11
6-0
190
DB
24
Runyon, Max
12
6-0
225
FB
25
Liriano, Brandin
12
6-0
175
OLB
26
Rajkowski, Christian
10
5-11
165
QB
27
Robinson, Nuri
11
6-2
195
WR
28
Giritlian, Alex
11
6-1
175
DB
29
Mayes, JaTy
10
5-8
145
DB
30
Alexander, Ryan
12
5-10
205
LB
31
Wade, Jalen
10
5-9
175
DB
32
Burke, Spencer
12
6-1
215
DE/LB
33
Riegler, Zach
11
5-11
195
FB
34
Donnelly, Brock
10
6-2
205
DE/TE
35
Williams, Ja'Naz
11
5-11
195
RB/LB
36
Titolo, James
12
5-11
140
WR
37
Bieber, Nathaniel
10
5-8
150
WR
38
Pavic, Mark
12
5-6
145
K
40
Miller-Singh, Devin
10
5-9
160
RB
41
Martinez-Beasley, Lane
11
6-1
215
DE
42
Fischkelta, Nathan
10
5-9
140
WR/DB
43
Kelly, Pierce
10
6-1
195
MLB
44
Waters, Jesse
12
6-1
225
FB/LB
45
Luongo, Michael
10
5-8
180
LB
46
Wu, Brandon
10
5-7
150
S
47
Stapleton, Brendan
10
6-0
180
FB
48
Cevetillo, Nicolas
11
5-11
250
OL/LS
49
Mullen, James
9
6-1
225
DE
50
Centrelli, Jack
11
6-0
270
OL
51
Smiechowski, Jack
10
6-0
160
LB
52
Friday, Vahn
11
6-0
245
OT
53
Ohnegian, John
10
5-10
185
OL
54
Chalet, Joseph
12
5-10
275
DT
55
Soto, Luis
10
5-10
210
OL/DL
56
Tablada, Daniel
10
5-8
190
DT
57
Morris, Hunter
10
5-8
160
LB
58
Padilla, Roberto
10
5-9
160
LB
59
Orlando, Ryan
10
5-10
170
LB
63
Shahdanian, Alex
10
6-2
230
OL
64
Kudlacik, Michael
10
6-2
235
OL
65
Silva, Yann
10
6-1
275
OL
67
Mitchell, Liam
11
6-0
240
OL
70
Ezemma, Chinaedum
11
6-0
250
DT
71
Soto, Marco
10
5-8
215
DT
73
VanDeMark, Geno
11
6-6
305
OL
74
Wypler, Luke
12
6-4
290
OL
75
Lawrence, Andre
12
6-3
320
OL
76
Servedio, Christopher
11
6-1
265
OL
77
Young, Arman
12
6-4
275
OL
80
Serrano, Albert
11
6-1
175
WR
81
Ramabala, Michael
12
6-4
175
WR
82
Mahoney, Connor
10
6-1
165
WR
84
Rahman, Nijah
9
5-10
180
WR
85
Mete, Luke
10
5-6
135
WR
86
Buck, Ryan
11
6-0
150
WR
87
Morrison, James
11
6-6
230
TE
88
Kelly, Brayden
12
6-2
210
TE
89
Hernandez, Daniel
10
5-10
170
WR
90
Lavinio, Michael
11
6-0
250
OL/DL
91
McDermott, (Jack) John
10
6-2
210
DE
92
Waters, Jerry
12
5-11
225
DE
94
Holmes-Walker, Aaron
11
6-0
260
DT
95
George, Jovan
9
6-0
280
DL
99
Menard, Cyrenius
11
6-0
285
DT