2019 Honor Bowl
Northern California  East Bay
September 7, 2019
HOST SCHOOL
James Logan High School
1800 H Street
Union City, CA 94587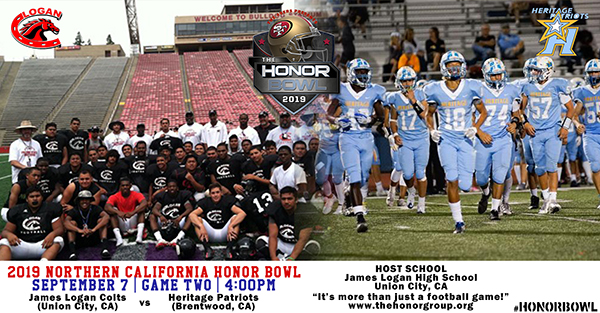 Game Two
Union City Colts vs Heritage Patriots
September 7, 2019 4:00pm
Game Two is another classic matchup that has two teams that love competing against a new opponent. James Logan Head Coach Rodriguez was adamant to be part of The Honor Bowl when he recently took over the Colt football program. Nice that in 2019 he is not only playing a game but James Logan is hosting the prestigious event. Heritage is the first of two football programs traveling from Brentwood to be in The Honor Bowl. Head Coach Don Sanders learned quickly that the Patriots are in The Honor Bowl. Brentwood is a strong military-centric community and we know the fans and followers will appreciate the festivities that surround The Honor Bowl.
Shout out to the Honor Bowl Team
This event is organized and produced by a small team of family and friends. All of us put in tireless hours each year to help make it a success and to help our mission for The Honor Group. We wanted to share the faces of The Honor Bowl. Everyone is 100% volunteer as well! The Honor Bowl changes lives for students, athletes, schools, and communities.