2019 Honor Bowl
Southern California | San Diego
August 31, 2019
HOST SCHOOL
Cathedral Catholic
5555 Del Mar Heights Road
San Diego, CA 92130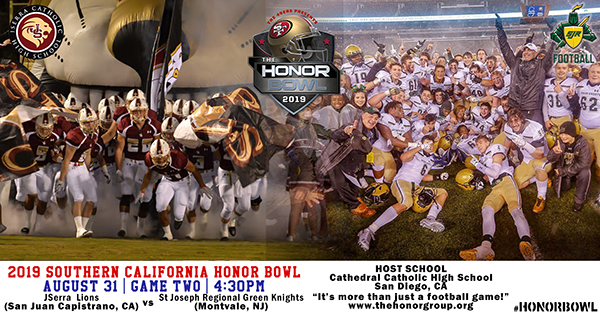 Game Two
JSerra Lions vs St. Joseph Regional Green Knights
August 31, 2019 4:00pm
Game Two will be one not to miss! JSerra Lions Head Coach Pat Harlow made room to be in toe 2019 Honor Bowl. This will be the first opportunity for the Lions to experience and compete in the Showcase. Consistently one of the top teams in California, JSerra will do their best to compete against the #1 team in New Jersey. Head Coach Augie Hoffman's St. Joseph Regional Green Knights will make their second appearance in The Honor Bowl. It is an honor to have the respect and commitment from schools such as St. Joseph Regional to travel from Montvale, NJ for a football game. In 2016 SJR had a great experience when they had the rare time to visit behind the gates of Camp Pendleton and will be sure to book this once more.
Shout out to the Honor Bowl Team
This event is organized and produced by a small team of family and friends. All of us put in tireless hours each year to help make it a success and to help our mission for The Honor Group. We wanted to share the faces of The Honor Bowl. Everyone is 100% volunteer as well! The Honor Bowl changes lives for students, athletes, schools, and communities.