2019 Honor Bowl
Northern California  East Bay
September 7, 2019
HOST SCHOOL
James Logan High School
1800 H Street
Union City, CA 94587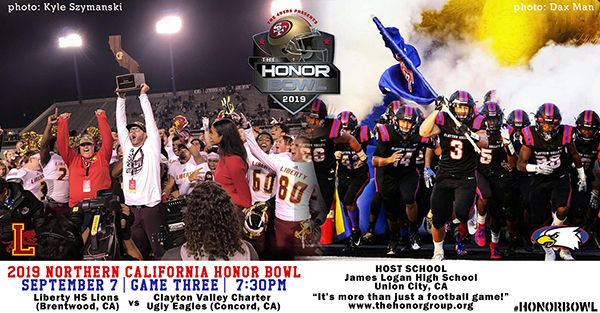 Game Three
Liberty Lions vs Clayton Valley Ugly Eagles
September 7, 2019 7:30pm
Here we go – the finale of the 2019 Honor Bowl and is this a great game! Liberty Lions Head Coach Ryan Partridge had a dream season in 2018 winning the CIF State D1-A championship. The Lions also competed in the first NorCal Bay Area Honor Bowl hosted by Saint Francis High School in Mountain View, CA. Liberty will have a strong returning team led by rising senior QB Jay Butterfield. Clayton Valley's Head Coach Tim Murphy is no stranger to The Honor Bowl having competed in three other showcases. The Lions vs Ugly Eagles adds up to be a great way to have the first Honor Bowl complete the two-week showcase in 2019.
Shout out to the Honor Bowl Team
This event is organized and produced by a small team of family and friends. All of us put in tireless hours each year to help make it a success and to help our mission for The Honor Group. We wanted to share the faces of The Honor Bowl. Everyone is 100% volunteer as well! The Honor Bowl changes lives for students, athletes, schools, and communities.